Pakistan Cricket Schedule 2022 with complete fixtures, match dates and upcoming T20, ODI and Test series
Complete Pakistan Cricket Schedule 2022 with fixtures of all upcoming cricket series of Pakistan during 2020 to 2023. The 2022 schedule for Pakistan Cricket team includes ICC T20 World Cup, PSL along with other ODI, T20 and Test series throughout the year. The Pakistan team will also compete in the inaugural ICC Test championship during the next four years, under the ICC Future Tours Programme (FTP). You can find here the list of all domestic and international cricket schedule for the Pakistan team including PSL, T20 World Cup and ICC bilateral series.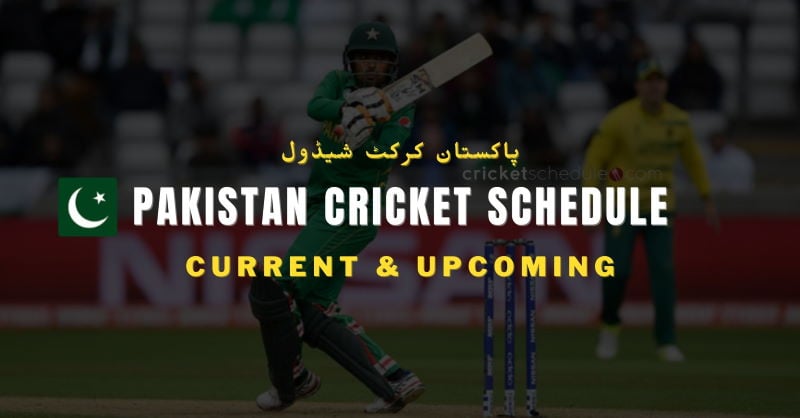 The Pakistan Cricket Board (PCB) Chairman Ramiz Raja has confirmed that Pakistan have lined up 9 bilateral series in 2022 and would play around 12 Tests, 21 ODIs and 70 T20Is during the year. In addition to bilateral series, the Pakistani team will also participate in major ICC events during 2022-23 season that include ICC T20 World Cup 2022, Asia Cup (T20 Format), ICC Cricket World Cup 2023, ICC World Test Championship and ICC World Cup Super League as per confirmed schedule dates.
Current & Upcoming Series: Pakistan Cricket Schedule 2022 Full List
Here's the Pakistan Cricket Schedule with a list of confirmed ICC and domestic cricket series in year 2022 to 2023. Get updates for series dates and venues of all upcoming tournaments (both home & away) along with fixtures of each match during each series here. Click on the series to see details of all matches (T20, ODI & Test matches). The Pakistan Cricket Schedule 2022 here gives you details of dates, venues and match timings given in GMT, EST and PKT (Pakistan local time) for your convenience, errors excepted:
Pakistan Super League (Jan – Feb)
The Pakistan Super League 2022 is set to begin in January last week with the final match in last week of February. PCB has finalized this year PSL schedule and matches are scheduled at Lahore and Karachi venues. There are no major changes in any of the six teams. The inclusion of more big names will, for sure, boost the excitement. Unlike previous edition, crowd are allowed at limited capacity in both stadium. At the group stage, all six teams will play 30 matches followed by the play-offs and finals.
Australia tour of Pakistan 2022
The Australia team is scheduled to tour Pakistan for over a month to play a T20 match, 3-match Test series and 3-match ODI series during March and April this year. Both teams play this bilateral series as part of their FTP program set through ICC for the period of 2020-23.
Pakistan Cup 2022 (Domestic Tournament)
Pakistan Cup is all set to commence from March 2, 2022. The 33-match tournament, to be played on double-league basis, will be staged at three venues this year that include Faisalabad's Iqbal Stadium, Islamabad's House of Northern and Multan's Multan Cricket Stadium. Semi finals will be played on March 28 and 29 and the final match is schedule on March 31.
West Indies tour of Pakistan 2022
Pakistan tour of Sri Lanka 2022
England tour of Pakistan 2022
Pakistan vs England series is scheduled twice this year when England will tour Pakistan for 7 T20s in September and then in December for 3 Test matches. Both teams will play a total of 10 matches this year in addition to their match in T20 World Cup in October. Pakistan will tour England next year to play ODI and additional T20/Test matches.
Asia Cup 2022
After playing bilateral series against England, Pakistan team will fly out to Sri Lanka where Sri Lanka will host the ICC Asia Cup 2022 in September. This will be a long series as all the Asian countries will take part.
Pakistan T20 World Cup Schedule 2022
With its recent performance, Pakistan is one of the most favorites team in the T20 World Cup tournament this year. Pakistan is set to begin its T20 World Cup campaign right after completing the Asia Cup in September. Both Pakistan and India are once again in the same group where they face off in their opening match on Sunday October 23, 2022.
Afghanistan tour of Pakistan 2022
New Zealand Tour of Pakistan 2022
New Zealand team is also scheduled for a tour to Pakistan during December 2022 and January 2023. The tour, as per ICC FTP and Pakistan cricket schedule, is part of the bilateral arrangement between the two countries. Both teams will play 2 Test matches and 3 ODIs in Pakistan.
ICC World Cup Super League (CWC Qualifier)
ICC Cricket World Cup 2023
The ICC Cricket World Cup is part of the Pakistan Cricket Schedule where Pakistan will be touring India for the ICC mega event in October and November 2023.
Pakistani players in T20 Leagues
*While the T20 leagues are not part of the Pakistan cricket schedule, we have included it here because most of Pakistani players participate in these T20 tournaments and leagues and are of great interested to cricket fans in general.
2022-23 FTP Schedule for Pakistan Team
The Pakistan team is scheduled for various T20, ODI and Test series as per ICC Future Tours Programme. According to latest Pakistan cricket schedule, this also includes Pakistan Super League (PSL) to be held each year during February – March period. In addition to bilateral series against Australia, West Indies, Sri Lanka, England, New Zealand and Afghanistan, we also have multiple ICC mega events. These ICC events include Asia Cup and T20 World Cup in 2022, followed by 2023 Cricket World Cup Super League and 2023 ICC Cricket World Cup.
2022 ICC Events in Pakistan Cricket Schedule
Some great events are part of the Pakistan cricket schedule in 2022 including PSL, Asia Cup and T20 World Cup. Pakistan Super League is scheduled for January and February months with all matches to be played in Pakistan. After Australia, West Indies and England tours, Pakistan will prepare to tour Sri Lanka for Asia Cup 2022 in September. The other ICC event where Pakistan will participate is ICC T20 World Cup 2022 to be hosted by Australia. The tournament will begin in October as per revised itinerary where Pakistan will tour Australia to play their first match against India.
2022 Asia Cup
The Asia Cup is scheduled September where Pakistan is scheduled to tour Sri Lanka to play against other Asian teams. The event was earlier postponed and has been rescheduled for September this year. India is the defending champions and its participation is as important as the host team. Both India and Pakistan will face off each other at yet another ICC event this year.
2022 T20 World Cup
The 8th ICC Men's T20 World Cup in 2022 is all set to be played in October and November in Australia. As an important part of the Pakistan cricket schedule, Pakistan will play against the India, South Africa, Bangladesh and other teams during the ICC mega event. The event will see a total of 16 teams with 45+ T20 matches including semi-finals and finals.
What's next for Pakistan team?
We are keeping an eye on international as well as Pakistan cricket schedule and changes in ICC FTP Programme for all teams. Since many series have been either cancelled or postponed, and many series rescheduled, it is hard to speculate on how the FTP fixtures will hold during the 2022-23 period. We will keep the Pakistan cricket schedule updated with all upcoming series on this page, so be sure to bookmark and keep visiting this page for all changes as they happen.
As mentioned earlier, Pakistan will continue to participate in 2022, 2023 and 2024 ICC events including two T20 World Cup events, Asia Cup and later the ICC Cricket World as per confirmed schedule.
Pakistan Cricket 2022 / 2023 Season FAQs
Learn more about Pakistan Cricket Schedule: